Biome Restoration at the Medical Academy of Pediatric Special Needs (MAPS) Conference – An Amazing Experience for Biome Restoration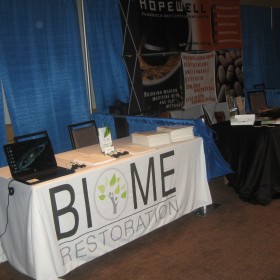 Judy Chinitz and Marc Dellerba have just spent three days attending the Medical Academy of Pediatric Special Needs (MAPS) conference in Costa Mesa CA, at which Biome Restoration Ltd was a corporate partner. This conference was a fascinating three days of lectures and exhibitions aimed exclusively at physicians and other health care practitioners gaining continuing medical education (CME) primarily in the treatment of children with autism and other associated disorders.
Biome Restoration was honored to accept a place at this conference where we had the opportunity to talk with the attending practitioners and supply them educational materials on HDC and the theories involved in biome restoration.
We were aware that there were several lectures specifically dealing with the use of HDC in autism. However, even we were surprised by the amount of excitement and interest these lectures appeared to generate. Although the use of helminths in autism spectrum disorders is not new to the autism medical community, the fact that Biome Restoration Ltd. is now producing high quality HDC at a cost that is affordable certainly appeared to have a huge impact.
Judy and Marc were fortunate to talk to the majority of the attendees over the three day conference, many who sought out our exhibition following discussions on helminth use in the lectures. It was an honor meeting so many intelligent, enthusiastic doctors who seemed genuinely excited by the potential impact an affordable source of high quality HDC may have on the care of their patients.  In fact, the very last doctor to approach the Biome Restoration vendor table, as the conference wrapped up, called us "The Pearl of the Conference."
We would like to express our extreme gratitude to the MAPS organizers and those doctors and practitioners who attended the conference who made it such an exciting learning experience for us all.  We were very pleased to meet the doctors and practitioners at MAPS – and if anyone requires further information, please contact Judy (judith.chinitz@biomerestoration.com) or Marc (marc.dellerba@biomerestoration.com).
Q & A
Q: Should I take the HDC with food or on an empty stomach?
A: It's best to put the HDC into something that contains a little fat, like some kind of milk substance.