New Prices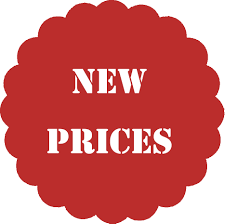 As you all know, our mission is to provide you with the best possible helminth product at the lowest possible prices. We have, therefore, kept our prices the same for the last two years, in spite of increasing costs to us in the production of our HDC.
Obviously, we could not keep that up indefinitely. We now find it necessary  to raise prices slightly to cover our own costs. Starting on November 1st, these will be our new prices:
5 HDC – £15
10 HDC – £20
20 HDC –  £27 trial dose; £25 subscription
30 HDC – £33 trial dose, £29 subscription
60 HDC – £60 trial dose, £50 subscription
International Royal Mail postal service shipping will be £13.  (Shipping within the UK will remain the same, at £2 and expedited mail will also remain the same, at £25.
For those of you with existing subscriptions, your cost will remain the same for the moment. However, if you create a new subscription, your price will go up as per the above.
Please rest assured that we are as committed as ever to keeping costs to you as low as we possibly can – while ensuring that you can continue to receive the highest quality product we can produce.
Q & A
Q: Should I take the HDC with food or on an empty stomach?
A: It's best to put the HDC into something that contains a little fat, like some kind of milk substance.