Please Read Our Supplemental May Newsletter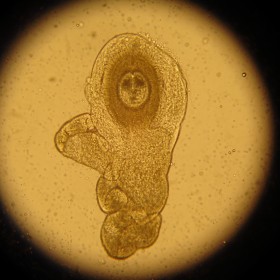 We want to welcome the flood of new customers we have had since the release of the BulletProof podcast with Dr. Sidney Baker!  Because there was some crucial information that Dr. Baker didn't get into in his broadcast, today we put out a special newsletter to provide you that information.  Please do take a moment to read it!  Most importantly – helminths are not a 1x "treatment" for any disease.  Taking a dose is not like taking ibuprofen, and having your headache go away 30 minutes later.  The effects of helminths takes months of regular (every 2 to 3 weeks) use.  If you have any questions, please contact us at info@biomerestoration.com.
Again – welcome to Biome Restoration!
Q & A
Q: Should I take the HDC with food or on an empty stomach?
A: It's best to put the HDC into something that contains a little fat, like some kind of milk substance.